Gas Boilers
ALUTHERM and ALU-SUPER boiler ranges - Characteristics
Based on tenth of years of experience of boiler manufacturers in Hungary, and on first rank components suppliers throughout the world, the company EURO- UNIOR has created and developed the gas boiler range of our days, economic and ecologic, and having a minimal energy consumption, namely the wall hung boylers Alutherm, and the floor standing boylers
Alu-Super. Through these two product ranges, the company offers basic devices both to ensure the modern living conditions for the population, and to develop a new culture of heat supply.
The technical consultancies organised with the participation of engineering and building companies of sanitary installations ensure that the products of the company EURO-UNIOR meet not only the needs of the final client, but, due to their extraordinary mounting simplicity and minimal maintenance, ensure also the satisfaction of the specialists.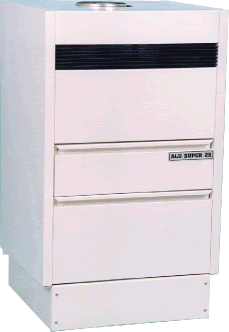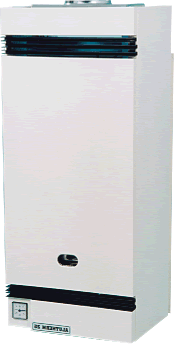 All in a system- but meeting each particular demand!
Thanks to their multi- sided possibilities of application, the boilers Alutherm and Alu- Super may be used either in gravitational circulation systems, or in pump- circulated systems, both in open- loop, or close loop systems, in new and in renovated buildings, in 90/ 70° C systems, or in low temperature systems.
It suits the heating of flats, detached houses, semi- detached houses, public institutions, plants, agricultural premises and greenhouses.
The heart of the modern heating system is the EURO- UNIOR gas boiler, which, together with the room thermostat regulation, or the weather- dependant regulation, and a boiler with indirect heating supplying sanitary warm water, constitute ai ideal unit.
Characteristics of boiler ranges

Energy economy

Aluminium- silicium heat exchanger, that does not experience corrosion

Efficiency: 90-92%

Reliable, silent operation

Aesthetic appearance, small room required, light weight

Long product life

Ecological operation

The boilers may operate both on natural gas, or on PB (propane- butane), by only replacing the nozzles

The ALU wall hung boilers are equipped with circulation pumps (MYSON, or GRUNDFOS)

The panels of the boiler mantle are of steel plate, painted in a special, electrostatic, burned- in technology, and confer an aesthetic appearance to the appliance.

The boilers may be chimney connected, which ensures an extremely simple and safe operation.