KOALA Convectors
KOALA gas convectors with pb bottle closet area of utilisation
The gas convectors of the company EURO- UNIOR offer you a solution if you want to solve your heating problem in a simple, reliable, quick and economic way. It is highly recommended for the heating of bungalows, summer residences, cottages, hunting houses, homes, stores, work places far away from infrastructure, as PB gas is always and everywhere available. Its merit is its favourable investment cost, and the possibility of a periodical heating operation, as per requirements.
With the KOALA PB bottle gas convector a cost saving of up to 45 per cent may be achieved, as compared to e.g.oil heating.
The aesthetically designed mantle of the KOALA convector hides the gas bottle, thus, the two elements constitute an organical unit. It is being manufactured both in chimney- connectable and in parapet variant. It may be used also in living spaces.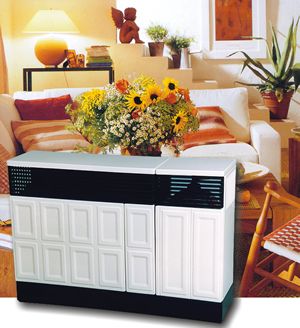 The safe operation of the convector is ensured by the pressure reductor supplying a constant pressure of 30 mbar. By replacing the nozzle (at 25 mbar), the convectors are able to operate also on natural gas..
The automatic control unit of the convectors is a combined gas valve, ensuring, beside thermoelectric flame control, a continuous gas supply. This unit contains also the pieso iginiton.